Why K2??
K2 Starts Small and Scales With You
Start small with 7TB-180+TB in Just 4U
Scale to over 1PB in just 20U
Built to support multiple workloads
Automatic adaptive block size optimizing performance according to your application's block size
Consistent and predictable performance for OLTP / OLAP / Big Data – with selective deduplication
Better Fit at Lower Cost
Pay only for what you need with Scale-Up and/or Scale-Out
Pay less with full data reduction services: Inline compression, global selective inline deduplication and thin provisioning
Eliminate "forklift" upgrade with Mix and match controllers and SSD
More efficiency, less overhead:

Highest performance using Full Active/Active K-Node controllers
Highest capacity utilization with our K-RAID™
Highest density (up to 60 TB/U)
Lowest metadata footprint (less CPU and memory)
Average price under $1/GB
All-inclusive software pricing
Ensures Your Peace of Mind
Complete data protection
Proactive HealthShield™ – Cloud-based call home and analytics
Tight ecosystem integration
Always-on, data-at-rest encryption
Native replication between sites
Guaranteed Effective Capacity

Kaminario stands behind the K2 all-flash array with K-Assured: The storage industry's most comprehensive, most straightforward, most valuable business guarantee program. K-Assured combines six simple guarantees to give customers certainty and predictability as their business scales.
Assured Capacity
Kaminario was the first all-flash array vendor to introduce an effective capacity guarantee in 2014. K-Assured extends Kaminario's commitment to ensuring customers get what they purchase. The Assured Capacity guarantee provides customers a minimum effective storage capacity for their purchase over the life of the array. This guarantee applies to any data set as long as it's not already compressed or encrypted. If K2 does not meet the guaranteed effective capacity, Kaminario will provide the guaranteed capacity to the customer, at no additional cost.
Assured Performance!
Businesses expect all-flash solutions to support high performance, mission critical applications. Delivering consistent high performance as environments grow and as workloads become more complex requires an all-flash architecture that is designed for change. The Kaminario K2 can scale-out to maintain performance as environments grow and can maintain high performance in the face of mixed workloads. Kaminario K-Assured clarifies the performance you can expect. If the K2 does not perform as promised, Kaminario delivers additional compute resources at zero cost to close the gap.
Assured Availability
High availability is table stakes for enterprise class all-flash storage arrays. There is no excuse for violating the trust you put in your storage vendor's ability to secure your most important asset – your data. A claim around high availability is not the same as a high availability promise. The Assured Availability guarantee delivers a very simple message: We are confident that K2 will deliver 99.999% uptime, if it doesn't, we provide you with additional support at zero cost.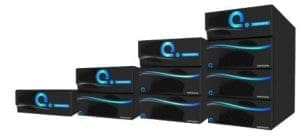 Kaminario
Kaminario is a leading all-flash array vendor that set itself the mission to enable customers to scale their business easily and cost-efficiently. The Kaminario K2 is the first next generation all-flash array that delivers a true dynamic storage infrastructure with an architecture that can both scale-out and scale-up, giving customers the flexibility and agility to dynamically grow their datacenter according to their needs with a price tag that can rival any other HDD/hybrid/flash array.
Kaminario K2: All-Flash. Cost-Efficient. General Purpose
Kaminario is a leading all-flash array vendor that set itself the mission to enable customers to scale their business easily and cost-efficiently. The Kaminario K2 is the first next generation all-flash array that delivers a true dynamic storage infrastructure with an architecture that can both scale-out and scale-up, giving customers the flexibility and agility to dynamically grow their datacenter according to their needs with a price tag that can rival any other HDD/hybrid/flash array. Kaminario has made another step in the continuous accomplishment of its mission – with a new unheard-of average price of below $1/GB, with increased scalability by introducing one of the industry's first deployments of 3D TLC drives allowing customers superior density, and cutting power, cooling and footprint in half. The K2 extends its enterprise features with a brand new remote replication feature to complete the K2's comprehensive data-protection scheme. Visit www.kaminario.com to learn more!
K Assured Ds
Kaminario stands behind the K2 all-flash array with K-Assured: The storage industry's most comprehensive, most straightforward, most valuable business guarantee program. K-Assured combines six simple guarantees to give customers certainty and predictability as their business scales.
FMS2015 – All-Flash Arrays Require Scalable, Cost-Efficient Software-Defined Architectures
There are many exciting innovations coming to solid state storage, such as 3D NAND and 3 bits/cell ("TLC"), says Shachar Fienblit, CTO of Kaminario.
Forrester Webinar
Data Sheet: Kaminario
Kaminario K2 is the most cost-effective storage, with consistent and predictable performance and support for virtual and physical mixed workload environments.
White Paper: K2 Architecture Kaminario
Kaminario: The most cost-effective All-Flash Array (AFA), with better cost than HDD storage.
Why Kaminario?
This summer I made the decision to leave my previous employer and join another vendor in the All Flash Array space – a company called Kaminario. A lot of people have been in touch to ask me about this, so I thought I'd answer the question here… Why Kaminario?To answer the question, we first need to look at where the All Flash industry finds itself today…The Path To Flash AdoptionWe all know that disk-based storage has been struggling to deliver to the enterprise for many years now. And most of us are aware that flash memory is the technology most suitably placed to take over the mantle as the storage medium of choice. However, even keeping in mind the typical five-to-seven year refresh cycle for enterprise storage platforms, the journey to adopt flash in the enterprise data centre has been slower than some might have expected. Why?There are three reasons, in my view. The first two are pretty obvious: cost and functionality. I'll cover the third in another post – but cost and functionality have changed drastically over the four phases of flash:Phase One: Extreme PerformanceThe early days of enterprise flash storage were pioneered by the likes of FusionIO with their PCIe flash cards. These things sold for a $/GB price that would seem obscene in today's AFA marketplace – and (at least initially) they had almost no functionality in terms of thin provisioning, replication, snapshots, data reduction technologies and so on. They weren't even shared storage! They were just fast blobs of flash that you could stick right inside your server to get performance which, at the time, seemed insanely fast – think <250 microseconds of latency.This meant they were only really suitable for extreme performance requirements, where the cost and complexity was justified by the resultant improvement to the application.Phase Two: Niche Performance ApplicationsThe next step on the path to flash adoption was the introduction of flash as shared storage (i.e. SAN). These were the first All Flash Arrays, a marketplace pioneered by Violin Memory (my former employer) and Texas Memory Systems (subsequently acquired by IBM). The fact that they were shared allowed a larger number of applications to be migrated to flash, but they were still very much used as a niche performance play due to a lack of features such as data reduction, replication etc.Phase Three: Virtualization for Servers and DesktopsThe third phase was driven by the introduction of a very important feature: data reduction. By implementing deduplication and/or compression – therefore massively reducing the effective price in $/GB – a couple of new entrants to the AFA space were able to redefine the marketplace and leave the pioneering AFA vendors floundering. These new players were Pure Storage and EMC with its XtremIO system – and they were able to create and attack an entirely new market: virtualization. Initially they went after Virtual Desktop Infrastructure projects, which have lots of duplicate data and create lots of IOPS, but in time the market for Virtual Server Infrastructure (i.e. VMware, Hyper-V, Xen etc) became a target too.Phase Four: General Purpose StorageThis is where we are now – or at least, it's where we've just arrived. The price of flash storage has consistently dropped as the technology has advanced, while almost all of the features and functionality originally found on enterprise-class disk arrays are now available on AFAs. We're finally at the point now where, with some caveats, customers are either moving to or planning the wholesale replacement of their general purpose disk arrays with All Flash. Indeed, with the constant evolution of NAND flash technology it's no longer fanciful to believe that Backup and Archive workloads could also move to flash…We are now at the inflection point where, thanks to the combination of data reduction features and constantly-evolving NAND flash development, the cost of All Flash storage has fallen as low as enterprise disk storage while delivering all the functionality required to replace disk entirely. We call this concept the All-Flash Data Centre.So to answer the question at the start of this post, I have joined Kaminario because I believe they are ideally placed, architecturally and commercially, to lead the adoption of this new phase of flash storage – a technology that I fundamentally believe in.Making The All-Flash Data Centre A RealityI mentioned earlier that NAND flash is changing and evolving all the time. It reminds me a little of smartphones – you buy the latest and greatest model only for it to become yesterday's news almost before you've worked out how to use it. But the typical refresh cycle of a smartphone is one-to-two years, while for enterprise storage it's five-to-seven. That's a long time to risk an investment in evolving technology.Kaminario's K2 All Flash Array is based on its SPEAR architecture. Essentially, what Kaminario has created is a high-performance, scalable framework for taking memory and presenting it as enterprise-class storage – with all the resilience, functionality and performance you would expect. When the company was first founded this memory was just that: DRAM. But since NAND flash became economically viable, Kaminario has been using flash – and the architecture is agile enough to adopt whichever technology makes the most sense in the future.As an example of this agility, Kaminario was the first AFA vendor to adopt 3D NAND technology and the first to adopt 3D TLC. This obviously allows a major competitive advantage when it comes to providing the most cost-efficient All Flash Array. But what really drew me to Kaminario was their decision to allow customers to integrate future hardware (such as new types of flash) into their existing arrays rather than making them migrate to a new product as is typical in the industry. By protecting customers' investments, Kaminario is taking some of the risk out of moving to an AFA solution. It calls this programme the Perpetual Array.In addition to this, Kaminario has a unique ability to offer both scale out and scale up architecture (scalability is something I will discuss further in my Storage for DBAs series soon) and to deliver workload agnostic performance… all technical features that deliver real business value. But those are for discussion another day.For today the message is simple: Kaminario is making the All Flash Data Centre a reality.. and I want to be here to help customers make that happen. Related
Critical Strategies to Prepare for the Future with All-flash Storage
To quote a well-known mobile phone campaign, "The future's bright."For the IT industry, this has always been a fitting phrase, as it is our responsibility to make ideas and dreams a reality through technology. Remember when consumers were thought it would be so great to have video phones, something to play music on when you work out, something that washed and dried clothes, or even cars that drove themselves. As we look at these dreams that are now a reality to everyday consumers, it's easy to think what technology will impact our lives in the future. But, the real question is – are we ready for it?Because of the internet, technology has rapidly accelerated in the last 20 years. Making all this possible is a myriad of connected infrastructures that are the vital foundation that keep technology running. If we look back when the computer was first introduced mainstream, the entire back-end of it would be in the same room as the user. Today, the massive amount of data a computer produces and stores are far more likely to be in a datacenter on the other side of the country. While it may be out of sight – it should never be out of mind.Today's modern datacenter needs to support the dynamic nature of modern businesses, including seamlessly scaling with growth and demand, delivering superior user experience so employees don't see any downtime, and supporting the need for businesses to be agile in response to changing market requirements. The only certainty about what's next for business of the future will be different and will come faster than anyone has predicted.As society becomes increasingly connected, data needs to be ever more intimidating. Gartner recently reported that there will be 21 billion connected devices by 2020, and in order to make the data from all devices meaningful, it must be supported by an infrastructure that can store large quantities in a quick and real-time manner, as well as be highly flexible to scale up to accommodate future demands.With this in mind, enterprises are increasingly turning to all-flash arrays to support their datacenters and prepare their business for what's next. As a result, they must focus on three critical strategies to ensure they are investing in the right storage for the future.Predictability drives performanceWhen looking to invest in a storage platform, businesses must ask themselves this question: does your storage system provide the predictability required to look ahead to the future? Do you know what will happen if new applications or processes are added to the system?A predictable storage platform — one that prepares a business for its next wave of challenges — must deliver on multiple fronts, starting with the scalability and performance that grows with business demands, all while remaining cost effective, easy-to-use and reliable. Without reliable, predictable performance from a storage platform, businesses will be unprepared when the unexpected happens.Capacity for demand growthAll-flash arrays are increasingly designed to handle both mixed workloads and provide agile scalability to match demand needs. Today's businesses often need storage that combines performance with capacity, especially if it has plans to grow quickly to meet increasing customer demand. All-flash storage works towards a higher performance within a shared pool of storage volumes, and with the ability to both scale-up and scale-out, customers can optimize performance and overall efficiency for specific applications. As datacenters take on newer, more data-intensive tasks, and create more data, flash storage creates the optimal environment to handle all of these different workloads.Flexibility designed for the futureStorage can become a big investment for most businesses, so being able to scale with hardware is crucial. All-flash is designed with flexibility in mind, ensuring that businesses can use the most cost-effective hardware available and retire older hardware in a non-disruptive manner.Without storage, datacenters wouldn't exist. It is the platform that is already supporting businesses across all types of activity – from experiencing a digital transformation to leveraging the Internet of Things, and extracting value from big data, as well as supporting employees and customers with advanced applications. As the industry continues to grow in complexity, businesses need to focus on ensuring that their storage infrastructure is ready now, so their business can thrive in the future.(About the author: By Tom O'Neill is chief technology officer EMEA at Kaminario)
The All-flash Promise, Pleasure and Pain: Survey says …
Seen this lately?"All-flash all the time""Affordable speed for every demand""All-flash drives the business transformation of tomorrow""All-flash array for all your needs"Well, so have we. In fact, we may have even come up with a few of these. The rise of All-flash enterprise storage started more than just a technological revolution in the world of IT. It also spawned a new generation of marketing buzz words and cute tag lines. The fact remains that enterprises cannot deny the operational and economic benefits of moving from a traditional disk-based storage infrastructure to one based on modern flash-based architectures, especially on paper! But now that AFAs have started to permeate more and more into true enterprise production environments, the question remains – is the technology living up to its promise of marketing nirvana?To help our customers see through the fog of marketing assertions, we commissioned a vendor-neutral worldwide survey of IT professionals conducted by Freeform Dynamics. The inside track research titled, All-flash storage uncertainty and doubt, ran on online survey of 187 IT professionals and here are some of the key findings. 1. Flash still loves VDI but there's a new leader in townVirtual Desktop Infrastructure workloads have always been, and will continue to be, a great candidate for all-flash arrays. However, customers are increasingly driven to AFAs for their highest performing applications. This is a testament, no doubt, to the mainstream acceptance of AFAs for not only performance but also richness of features and stability of the platform.By the way, remember the all-flash data center nirvana? It turns out enterprises haven't quite bought into that yet!2. AFSUD is the new FUD – technology delivers but do the vendors?FUD = Fear, Uncertainty and Doubt. AFSUD = All-flash Storage Uncertainty and Doubt. A common theme from the study pointed to caution around the uncertainty of flash when it came to cost, sizing and unsubstantiated vendor claims. While users did acknowledge that many vendors have made progress in calming fears about cost-efficiency of flash, there still are some lingering doubts about the true $/GB of all-flash compared to its older disk-based sibling. That, along with skepticism of the lofty vendor claims, rounded out the top customer concerns.3. Hey AFA vendors – put your money where your mouth isThe rapid change in media technology and the relative young age of the AFA market makes it hard for customers to conduct detailed technical due-diligence. This leaves them with a range of questions – when is a terabyte not a terabyte? What does "rated for 99.999% or 99.9999% availability" actually mean? Why is it so hard for vendors to guarantee performance? While vendor marketing assertions sound great, the inability to deliver on these promises has left many AFA customers jaded. Surveyed customers were keen to see vendors back their claims with actual guarantees, especially around availability, capacity and performance.Bottom-lineThe bottom-line is that the AFAs are clearly making their mark given their technological advantages. But, customers are increasingly looking to vendors to substantiate their messaging through firm assurance programs. Here at Kaminario, we've embraced this message through our own assurance program called Kaminario K-Assured. It builds on the predictability of the Kaminario K2 all-flash storage platform.Want to learn more?To see other key survey questions, results and insightful commentary, check out the entire Freeform Dynamics report here.