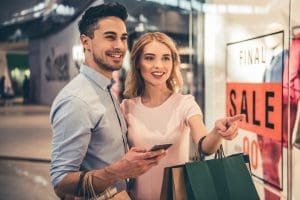 We've all seen the headlines screaming that the retail apocalypse is here, and retail stores as we know them are in their death throes.
Some of the hysteria is warranted. Competition from e-commerce is fierce.  A whopping 3,500 stores are expected to shutter their doors in the next couple months. Major retailers like JC Penney, Macy's and  Sears are all closing stores—turning malls into ghost towns.
The challenges are real, but don't give up on brick-and-mortar just yet.  With a change in mindset and new strategies, traditional stores can turn it around by using the very thing that gave e-commerce its swift rise—technology.
A Challenging Climate for Brick-and-Mortar Retailers
The changing retail landscape presents big challenges to brick-and-mortar retailers looking to compete with e-commerce.
A recent Pew Research Center survey found that nearly 80% of Americans are online shoppers—with 15% making weekly online purchases. This may sound discouraging, but there's still hope for brick-and-mortar stores that use technology to their advantage.
There's something to be said for physically seeing an item in a store and asking a salesperson questions, face-to-face. In fact, this same Pew survey found that 64% of Americans said they would prefer to buy from a physical location.
Of course, merely getting someone into the store doesn't guarantee a sale. The trick is capturing shoppers' attention and giving them a reason to buy while they're in your store.
You just need to give your customers an incentive and make them feel special.  Make it a pleasant shopping experience with small details like free WiFi; for example, and offer them exclusive, relevant in-house deals.
Technology Isn't Just for E-Commerce
This is where technology comes in. It can help brick-and-mortar retailers go head-to-head with online storefronts by making it easier to acquire, analyze and leverage valuable customer data to boost customer engagement and enable real-time customization.
You can target specific locations with promotions and sales by using push notifications, app downloads, and targeted search results to spread the word.
But where is all of this valuable information coming from?  How can you directly communicate with shoppers perusing your aisles?  The answer is simple—smartphones.
Retail Analytics Can Provide Retailers with a Solution
People are seldom without their phones, and nearly half admit to checking online reviews and comparing prices while they're in a store. Technology will help you take advantage of this behavior to capture the sale.
Even if a smartphone is tucked away in a pocket and not connected to WiFi, the phone is constantly emitting a WiFi probe signal. By harnessing this data, you can amass a treasure trove of valuable retail intelligence.  
For example, FortiPresence can help you gather this powerful information to increase in-store sales.  It's a cloud-based service, so you don't have to bother with acquiring expensive new software. In addition to offering social WiFi, FortiPresence provides essential customer data.
With retail analytics, retailers will see things like conversion and bounce rates, real-time location trends, total visitor numbers, time spent in a store and comparisons with other stores. Best of all, you can use this data to target someone browsing in your physical storefront with real-time ad generation.
Xiologix can help brick-and-mortar retailers use retail analytics to win back customers from e-commerce.  Read: 6 Cool Ways to Drive Conversions with Heat Maps. Contact us to learn more.
Fortinet Presence Analytics

Ruckus Smart Wi-Fi for Retail